Office Protect is a service that's designed to help you secure your Microsoft 365 tenant. We actively monitor threats, investigate alerts, eliminate false positives, and provide response and remediation.

Office Protect is specifically created for small and medium-sized business (SMB) owners. Or users who may not be familiar with complex cybersecurity concepts. It offers a user-friendly solution to enhance the security of Microsoft 365. Microsoft 365 is widely used and often targeted by malicious individuals seeking to exploit its vulnerabilities. However, with Office Protect, you can safeguard your Microsoft 365 environment and mitigate these risks effectively.
How Office Protect Keeps You Safe and Secure
At Constructure Technologies, we prioritize the utmost care in safeguarding your business. Our comprehensive approach ensures your safety and security every step of the way.
To begin, we initiate an initial security assessment, reaching out to you personally to gain a deep understanding of your unique needs. Next, we meticulously implement the necessary security measures, incorporating cutting-edge technologies such as Microsoft 365 Audit logs.
Rest assured, our vigilant monitoring operates round the clock, ensuring constant surveillance and prompt detection of any potential threats. We carefully analyze the gathered data to extract valuable insights, enabling us to effectively respond to any incidents and provide detailed reports to fortify your future security posture.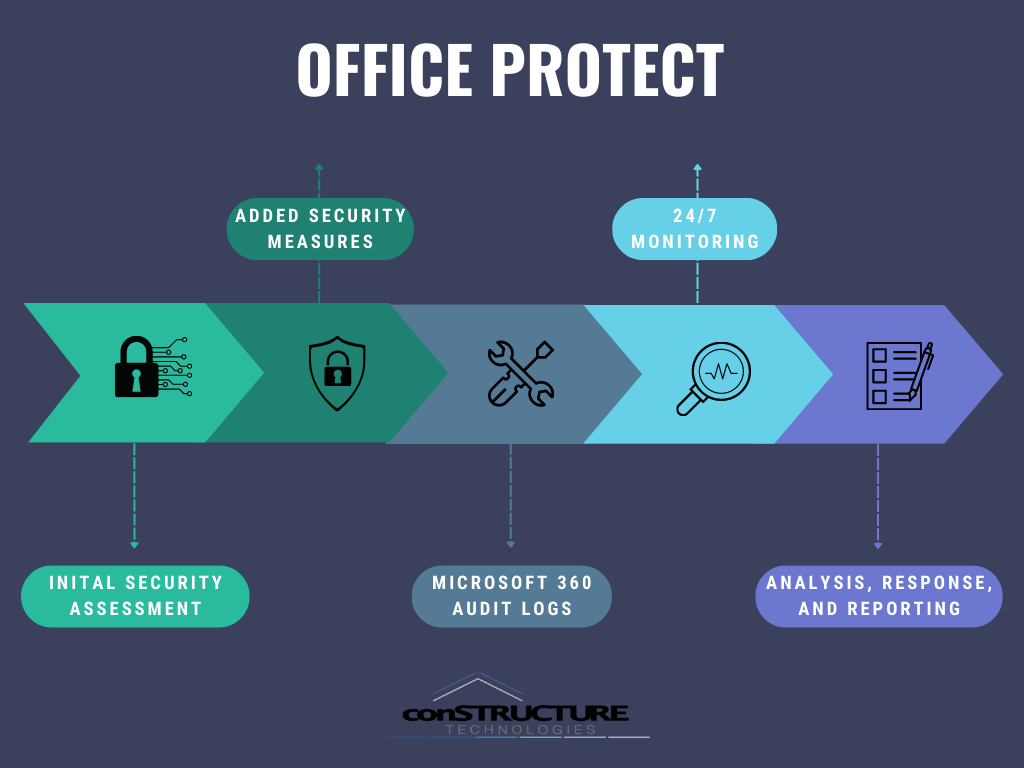 Our expertise combined with great software is the best practice for your Microsoft cybersecurity. Office Protect will reduce and detect the following vulnerabilities: Account break-ins, Data exfiltration, business email compromise, phishing, internal threats. Lateral movement, ransomware, attacks by nation states, and email impersonation.
The many benefits of Office Protect
It offers a range of benefits to organizations, including:
Data Loss Prevention (DLP):
Office Protect helps prevent accidental or intentional data leaks by identifying and protecting sensitive information. It offers predefined and customizable DLP policies that can detect and take action on sensitive data across various Office applications such as Word, Excel, PowerPoint, and Outlook.
Advanced Threat Protection (ATP):
It provides enhanced security against sophisticated and evolving cyber threats. Office Protect includes features like safe attachments, safe links, and anti-phishing capabilities to safeguard against malicious attachments, suspicious links, and phishing emails.
Email Encryption:
With Office Protect, you can encrypt sensitive emails and protect their contents from unauthorized access. This ensures that only intended recipients can read the encrypted messages, providing an additional layer of privacy and security.
Data Governance:
Office Protect assists organizations in meeting their compliance requirements by providing features like retention policies, eDiscovery, and legal holds. These tools enable effective data management, archiving, and retrieval, ensuring compliance with various industry regulations and legal obligations.
Information Protection:
Office Protect offers robust information protection capabilities, including sensitivity labels and encryption, to classify and protect sensitive documents and emails. This ensures that sensitive information is appropriately handled, shared, and protected throughout its lifecycle.
Insider Risk Management:
The solution helps organizations identify and mitigate risks associated with insider threats. It includes features such as user behavior analytics, policy violations detection, and automated remediation actions to proactively address potential security breaches caused by internal users.
Secure Collaboration:
Office Protect promotes secure collaboration within and outside the organization. It provides features like secure sharing, file-level encryption, and collaboration controls to protect shared documents, control access permissions, and ensure data privacy during collaborative work.
Centralized Security Management:
With Office Protect, administrators can effortlessly monitor and configure security policies, review threat reports, and gain valuable insights into security incidents—all through a centralized management console. This streamlined approach simplifies security management, granting enhanced visibility and control over your organization's overall security posture. Unlock a new level of control today with Office Protect.
Take Action Today
Don't leave your organization's security to chance. Take action today and unlock the full potential of Office Protect to fortify your data defenses, enhance your risk management strategies, and achieve unrivaled regulatory compliance. Experience the ultimate protection – because your data deserves nothing less.